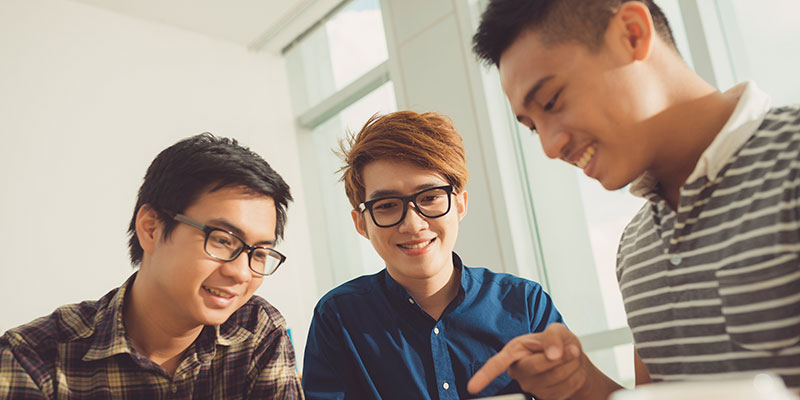 Many international students come to the USA to learn English, or pursue a degree program, or both. If you are interested in a degree program like a bachelor's or master's, most colleges and universities have a minimum English proficiency you must meet in order to be considered for the degree program. If you do not meet this minimum standard, there is a possibility to advance your chances of getting accepted into your desired degree program by applying to a school with conditional admission.
What Is Conditional Admission?
Conditional Admission is a program offered by colleges and universities, admission to a degree program, to eligible international students, with a requirement that they must improve their English language skills by attending the university's English language program. Generally, most universities and colleges do not require a TOEFL or IELTS score to apply for conditional admission.
In addition, certain schools will allow you to take academic classes while attending the school's English language program, while other schools require you to complete the English language program prior to beginning academic classes.
Which Schools Offer Conditional Admission?
Here is a list of schools by state that offer conditional admission.
Alabama:
Arkansas:
University of Arkansas at Little Rock
Arizona:
Embry-Riddle Aeronautical University
Chandler-Gilbert Community College
California:
Middlebury Institute of International Studies at Monterey
San Francisco State University
ANA Summer Programs/Academy by the Sea
Los Angeles Trade- Technical College
Grossmont College American Collegiate English (ACE)
Peralta Community College District
California State University, Chico
California State University, Bakersfield
California State University, Sonoma
California State University, Los Angeles
California State Polytechnic University, Pomona
University of California, Los Angeles UCLA Extension Certificate Program for International Students
University of California Los Angeles UCLA Extension American Language Center
University of California Berkeley Extension
University of California Berkeley Extension College Foundations Program
Colorado:
Connecticut:
Marianapolis Preparatory School
District of Columbia, Washington:
Delaware:
Florida:
Embry-Riddle Aeronautical University
Florida Intensive English Consortium
Florida International University
University of Miami Intensive English Program
Georgia:
Hawai'i:
Iowa:
Illinois:
Southern Illinois University Carbondale
DePaul University English Language Academy Chicago
University of Illinois, Springfield (Intensive English Program)
Kendall College - Laureate English Program (LEP)
Kendall College Culinary Program
Illinois Eastern Community Colleges
Indiana:
Indiana Institute of Technology
Kansas:
Louisiana:
Massachusetts:
Wentworth Institute of Technology
Boston School of Modern Languages
Maryland:
Howard Community College (HCC)
University of Maryland, Baltimore County (UMBC)
Maine:
Michigan:
University of Michigan - Flint
Minnesota:
The English Language Center at Winona State University and Bemidji State University
Missouri:
University of Missouri, Columbia
Mississippi:
North Dakota:
New Jersey:
Fairleigh Dickinson University
Nevada:
College of Southern Nevada (CSN)
New York:
Rochester Institute of Technology
State University of New York, Plattsburgh
State University of New York, Buffalo
State University of New York, Geneseo
Rockland Community College, State University of New York
Fulton-Montgomery Community College
Queens College (QC) of the City University of New York
College of Staten Island of the City University of New York
Touro College and University System
ISDE/Columbia Master in Sports Law & Management
Ohio:
Oklahoma:
Oregon:
Southwestern Oregon Community College
Pennsylvania:
HACC - Central Pennsylvania's Community College
Community College of Philadelphia
South Carolina:
South Dakota:
Northern State University International Undergraduate Admissions
Tennessee:
University of Tennessee Chattanooga
Texas:
University of North Texas (UNT)
Texas A&M University-Texarkana
University of Texas at San Antonio
University of Texas at Arlington
Texas Intensive English Program
Utah:
Virginia:
Virginia International University
Virginia Tech Language and Culture Institute - National Capital Region
Virginia Tech Language and Culture Institute - Main Campus Location
Washington:
South Puget Sound Community College
Gonzaga University English Language Center
University of Washington International & English Language Programs
University of Washington Bothell
Wyoming:
Western Wyoming Community College
Multiple Locations Across the USA:
Consortium of University and College Intensive English Programs (UCIEP)
Brianna Burrows is a freelance marketing specialist and alumna of Northeastern University. She specializes in event management, social media management, and content branding. Follow her on Twitter here.


Download Study in the USA ® Magazines