By Lindy Kravec
More than 1 million students from other countries enrolled in U.S. colleges and universities during the 2016-17 academic year—an increase of 3.4 percent over the previous year, according to the Institute of International Education (IIE). Of these students, approximately 19 percent came to the U.S. to pursue a business degree.
"The frontier of business research and training takes place at the top universities in the U.S.," says Dr. Shan Yan, assistant professor of finance in the Sigmund Weis School of Business at Susquehanna University.
The American business community has a strong influence in the global economy. It makes sense to get a business education in the United States, where you will also have opportunities that don't exist at schools in your home country.
For example, many U.S. undergraduate business programs offer a valuable combination of classroom business theory and real-world business case studies, a focus on specific areas of business, and the chance to obtain internships at some of the most competitive companies in the world.
"Innovative business models are also being created in U.S. markets. When you combine the academic training with exposure to the real market, you can see how valuable U.S. business training is for international students," Yan explains.
There are more than 4,700 degree-granting institutions in the United States. Some offer two-year associate degree programs, while others are four-year colleges and universities that award bachelor's degrees.
The question is, how can you narrow down all of those choices to find the school that is right for you? Here are several things to consider:
Location – think about more than East Coast or West Coast.
The U.S. is a huge country, with much geographic, demographic and climate diversity. You may want to select a school that allows you to experience all four seasons of weather, or one that provides endless summer. You may prefer a school in a vibrant metropolitan area, or one in a charming small town. But you should also think about whether you want to study at a large public university, a tiny private college, or somewhere in between. Is it important to have small class sizes where you can easily interact with other students and your professor, or are you comfortable in larger class settings?
Remember, while you are a student in the U.S. you will have the opportunity to travel and explore many areas of the country. But in selecting an American school, consider how the location might impact your program.
As a business major, you may want to choose a college or university that is relatively close to financial centers such as Chicago or New York City, and one that has a proven track record of helping students network with professionals in their field. The opportunity to shadow a business professional for a day, or actually work in a corporate setting as an intern is priceless.
After graduation, your international student visa allows you to work in the U.S. for one year to gain practical experience. With your American business degree, you can gain experience in almost any industry, working for one of the leading companies in the world!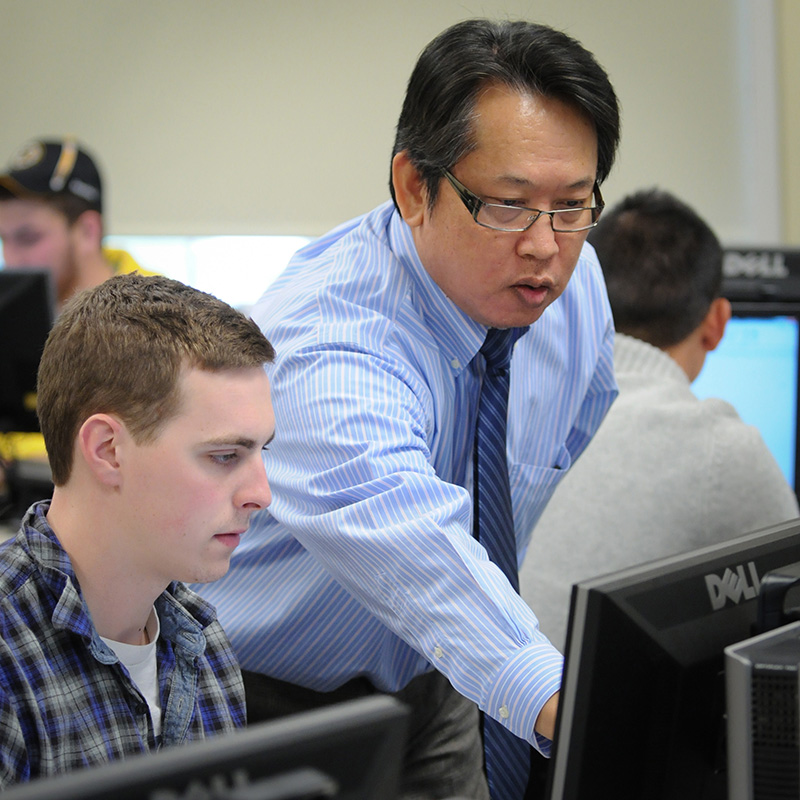 Look for specialized coursework delivered by faculty mentors.
Although many U.S. business schools offer degrees in general business management, most give you the opportunity to specialize in specific areas of business, such as finance, accounting, marketing, or even global management, entrepreneurship or luxury-brand management. These programs also allow you to gain a well-rounded education through elective courses that include world languages, math and sciences, social studies, literature and the arts. You will not only graduate with a business degree, but also a wealth of knowledge that will boost your ability to think critically across many disciplines, a skill that employers value.
You should not underestimate the importance of faculty in American business schools. Professors are trained from top universities and can deliver the most up-to-date information to students explains Dr. Yan. They are not only professors, but also researchers and mentors.
Professors schedule regular office hours when students can consult with them one-on-one to review coursework or discuss career plans. They will advise you of internship opportunities, and help you complete applications for employment or graduate school. As they get to know you, they will serve as your advocate, writing you letters of recommendation and connecting you with others who can help you succeed.
Susquehanna University accounting student, Michael Dolan, credits his recent internship success to such advocacy. He worked as a tax intern for Deloitte last summer, in New York City, doing tax planning for hedge and mutual funds clients. He credits faculty member Barbara Martin with setting him up with the right classes early on so that he would be prepared to step in to a demanding internship.
"She pointed me in the right direction," says Dolan. "The things I did in my internship are what I want to do in my career."
As you search websites of colleges and universities that interest you, it's a good idea to read the curriculum vitae of faculty members who teach in your area of specialization. You'll find out more about their educational background and research interests, and gain insight into what you might learn from them.
Accreditation sets schools apart.
How do you know if a business school meets the highest standard of excellence? Look for accreditation from AACSB International. The longest-serving association dedicated to advancing management education worldwide, AACSB accredits 775 of the world's best business schools in 52 countries and territories.
AACSB accreditation ensures that the school follows a rigorous curriculum taught by highly qualified faculty, and that it undergoes continuous assessment and improvement.
Susquehanna University is one of few undergraduate colleges to have earned AACSB accreditation. Demanding coursework built on a solid liberal arts foundation gives Susquehanna business students what they need to succeed.
In addition, a required Global Opportunities program lets students embrace other cultures through study abroad experiences, and learn how to adapt to a rapidly changing global economy. Within six months of graduation, 98 percent of Susquehanna's business school graduates are either employed or accepted into graduate school.
"My family always believed that getting an education in the U.S. would set me apart from my peers …" says international alumna, Busisiwe L. Chapula.
Chapula came to Susquehanna University from her native Zambia. As an accounting major, Chapula says she chose Susquehanna because of its size and close proximity to the business centers of Philadelphia, New York City and Washington, D.C. Although location wasn't the only factor.
"What I like most about attending college here is how much I've learned outside of the classroom," says Chapula. "For example, I learned how to expand my network, create and perfect my résumé, and how to speak effectively in front of people."
Like other Susquehanna business students, Chapula is confident that with her American business degree, she will have outstanding opportunities in her home country—or anywhere else in the world she may choose to live and work.
The Highline College Business Program
The Highline College Business Program specializes in international and global business, offering a number of associate of applied science (AAS) degrees, including International Business and Trade, Small Business/Entrepreneurship, Professional Sales, Retailing, E-Commerce, or General Business. Students who want to transfer to a four-year university can obtain an Associate in Business (AA) degree as well.
The Business Program also houses the Bachelor of Applied Science degree in Global Trade and Logistics. To reinforce this commitment to being a leader in global business, the college hosts Washington State's Center of Excellence for Global Trade and Supply Chain Management. The center brings together experts from industry, education and labor. The Center of Excellence has had strong industry input from regional and national employers such as CEVA Logistics, American President Lines, Federal Express Global Logistics, and DHL Global Forwarding. This collaboration builds a competitive workforce in a global economy.
Business program graduates work in every industry – from professional services to education, manufacturing, retail and government – performing a wide variety of business duties. In roles such as manager, supervisor, sales or marketing representative, they may be responsible for managing staff or contributing to critical business functions such as sales, marketing and administration.
At Marquette University in Wisconsin, students benefit from small class sizes and a high level of attention from faculty and staff. Students are prepared to be responsible, competent and ethical leaders in accounting, business, government and not-for-profit careers. With an emphasis on real-world success, Marquette provides access to services like resume writing assistance and job interview preparation. Marquette's accounting program holds the prestigious AACSB accreditation, held by only one to two percent of all U.S. accounting programs.
Marquette provides an internship-matching program for both undergraduate and graduate students.
"They complete job duties similar to a first-year employee and become engaged in business activities here in the U.S. Some students even receive a job offer at the end of their internship," says Professor Michael Akers, chair of the Marquette Accounting Program.
Yuli Pang, a master's degree student who interned with PricewaterhouseCoopers (PwC) through the matching program, was offered a full-time position with the firm. "I got a feel for the teams I would be working with once I started with the firm and the firm also got to see if I was a good fit," says Pang.
Pang also took advantage of the shortened one-year master's degree offered to students.
The university's location provides plenty of opportunities. Milwaukee, Wisconsin is home to companies like Harley-Davidson Inc., Johnson Controls, and Northwestern Mutual.
Master's students can join Beta Alpha Psi which organizes service projects and meetings with the local business community.
Another unique feature is an independent course that allows students to help solve real financial crimes by partnering with the Milwaukee Police Department.
Truckee Meadows Community College's (TMCC) Logistics Management Program is designed to educate both career professionals who are seeking to re-skill or increase their skill set for promotion and for incoming students who are seeking to obtain a degree in a growing exciting field—Logistics management is expected to grow by 35 percent in the next five to 10 years.
Logistics is about getting the right product to the right place at the right time at the right price. Logisticians handle products and services from cradle to cradle, sourcing raw materials, coordinating their delivery for manufacture, delivering the product to the consumer and making sure that the product is delivered in a way that supports company strategy.
With a focus on theoretical instruction with real world application, graduates have the ability to take what they've learned in the classroom and implement it upon graduation. Students are prepared for popular careers as an Analyst, International Logistics Manager, Supply Chain Manager, Logistics Manager and Transportation Manager, among many others.
Logistics degrees offer flexibility and capabilities that are widely transferable. Truckee Meadows Logistics Management Program students can graduate with a Certificate, Associate of Applied Science (AAS), Associate of Arts (AA) or Bachelors of Applied Science (BAS) degree and professional certification from APICS.
Lindy Kravec is a freelance writer based in Pittsburgh, Pennsylvania.


Download Study in the USA ® Magazines