---
Find programs in Environment and Development
---
If you're concerned about environmental crisis and climate change, learn about sustainability.
What world leaders and citizens do to change the way we use resources early in this century will influence how we live for generations in the future. If you're concerned about environmental crisis and climate change, you will want to learn about sustainability - the concept and practice that may let us continue to enjoy life on this planet.
Sustainable development means "meeting the needs of the present without compromising the ability of future generations to meet their own needs" (Brundtland Commission). That means cutting only enough trees per year that can be regrown. That means minimize the burning of fossil fuel, which causes global warming. That means designing energy-efficient buildings, using recycled materials when possible. And it means rethinking our social institutions and the way we conduct our business to be more equitable to all both across the globe and in future generations.
Because universities are at the forefront of research and development, many U.S. campus leaders have decided that all future construction will be "sustainable" and that they will transform the daily operation of the campus to conserve resources. Moreover, they are introducing courses, majors and conferences on sustainability and the environment.
You, the international student, can learn firsthand about this crucial concept the minute you decide to study abroad in the U.S.A. You can practice recycling, eat locally grown food and wash your car and clothes with non-toxic, biodegradable products.
A leader in sustainability is Arizona State University near Phoenix, which has established the world's first School of Sustainability. The undergraduate, graduate and research programs focus on problems including urbanization, energy and water use, biodiversity, and economic and social development. Graduate students will be able to specialize in areas such as water use and conservation, sustainable construction techniques and materials, urbanization and planned communities, alternative fuels, and environmental health issues, including ozone pollution and "brown clouds." Students in Global Launch at ASU have visited local "green" buildings and toured the School of Sustainability as part of their ESL studies.
English for Sustainability and the Environment
Global Launch at Arizona State University offers English for Sustainability and the Environment, possibly the only U.S. English language course focused solely on this topic. International students improve English language skills by discussing contemporary environmental issues and concerns. They take field trips to "green" buildings on campus and nearby, listen to expert speakers, and work on research projects dealing with such topics as water resources, Native American environmental practices, recycled building materials, and life in a desert community (the desert climate, adaptations by plants and animals, and implications for people.) Classes have visited the Grand Canyon and rare or threatened environments like the Desert Botanical Gardens, to explore how these treasures can be enjoyed and preserved for future generations.
Clark University is located in central Massachusetts, and is host to the department of International Development, Community, and Environment (IDCE). IDCE prepares students to become agents of social change in an increasingly interconnected world. The focus is on major forces of social change: grass roots initiatives, social movements, government policy, market approaches, entrepreneurship, technological innovation, individual action, and education.
The IDCE Department offers four distinct, yet interlinked master's degree programs: International Development and Social Change (IDSC), Environmental Science and Policy (ES&P), Community Development and Planning (CDP), and Geographic Information Science for Development and Environment (GISDE) and two undergraduate degree programs: International Development and Social Change (IDSC) and Environmental Science and Policy (ES&P).
There are multiple existing and emerging exciting opportunities for IDCE students to get involved in sustainability efforts at multiple scales spanning the local to the international.
ES&P students have been involved in Clark's Sustainability Task Force, which has developed a Climate Action Plan that is currently being finalized and will be online soon. Clark has also partnered with Worcester Polytechnic Institute (WPI) to initiate a new Institute for Energy Innovation and Sustainability in Worcester that has been designed to promote Central Massachusetts as a green energy hub.
The University of Findlay in Ohio developed the first U.S. bachelor's degree in hazardous waste studies, now broadened into a degree in environmental, safety and occupational health management. Students in the environmental program and in the sciences study and do research in the 47-acre Rieck Wilderness Area,'known for diverse habitat - riparian, woods, flood plain and prairie - as well as a bird observation room, feeding station and butterfly/hummingbird gardens. For those who already have an associate's degree, the environmental program offers a degree-completion option entirely online. And for those already working in the field, a master's in environmental, safety and health management can be earned entirely online as well.
An important benefit of attending the University of Maryland is student involvement in "green" or sustainable programs and initiatives. More than 25% of the university's electric power comes from renewable energy, and students take an active role in supporting the effort.
The University of Maryland offers students the chance to pursue careers in sustainability, sponsoring an annual conference to introduce students to jobs in the renewable energy field. Undergraduate students can choose from 15 majors that specifically address environmental issues and sustainability, such as Agriculture and Resource Economics, Environmental Science and Policy, Landscape Architecture, and Natural Resource Management. Graduate students have 22 programs from which to choose, ranging from Civil and Environmental Engineering to Sustainable Development and Conservation Biology.
On campus, 14 different student organizations, from the "College Park Environmental Group" to the "Society for Green Business" engage students in finding sustainability solutions. Environmental Group members, for example, work on service projects, such as tree plantings and watershed clean-ups, watch environmentally themed movies with film discussions, and organize awareness activities to help promote environmental concerns.
Visit Cascadia College...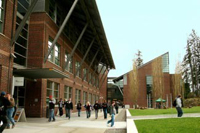 Cascadia College near Seattle is located directly across from a real-life laboratory for science students. The College is restoring high-functioning wetlands, similar to those found on the site 200-300 years ago, complete with a stream and creekbed. From campus it's an easy walk to this outdoor "classroom" to plant, care for and observe trees, shrubs, and herbaceous plants native to the area.
Cascadia students can earn a two-year transfer degree in Environmental Technologies and Sustainable Practices (ETSP). They gain expertise in subjects such as Solar Energy Systems, Energy Management, and Carbon Footprint and sustainability analysis.
The ETSP program has a strong applied science and hands-on culture with an emphasis on demonstrating technologies for the benefit of students, the community and local sustainable industries.
Go Sustainable with the University of Washington Bothell!
Are you passionate about environmental preservation and sustainability? With the highly interconnected, fast-paced nature of today's world and the increasing importance of environmental sustainability, many students and professionals are choosing careers dedicated to environmental preservation. Both the University of Washington (UW) Bothell Bachelor of Science in Environmental Science and the Bachelor of Arts in Environmental Studies are excellent choices for those who are passionate about environmental preservation and stewardship.
Visit University of Washington Bothell...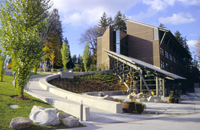 The degrees prepare students for slightly different career tracks. The Bachelor of Science in Environmental Science is a great option for students interested in math and science and careers in research. Alternatively, the Bachelor of Arts in Environmental Studies is well suited for students interested in environmental activism and advocacy. It would be an ideal choice for a student interested in pursuing a career in a non-profit or non-governmental organization. For example, one UW Bothell alumni now works at the Port of Seattle conducting environmental impact analyses.
The UW Bothell campus is a natural environmental full of trees, plants, and greenery. It also features a 58-acre wetland that ranks among the largest floodplain restorations in the Pacific Northwest. UW Bothell professors and students conduct research and experiments in the wetlands, creating a living, learning classroom.
The UW Bothell Restoration Ecology Capstone Course is a key example of the applied and disciplinary approach to learning, which is fundamental to a UW Bothell education. During this engaging course, students work in small groups, planning and implementing an ecological restoration project in the Puget Sound. UW Bothell also offers Ecological Restoration, Ecological Methods courses, as well as many other courses, which incorporate hands-on ecological work.
It is critical that tomorrow's leaders are well-trained in environmental stewardship and sustainability. UW Bothell's highly skilled graduates will be part of the solution for a brighter and more environmentally-sustainable future. Mariah C. Ortiz is an International Admissions Advisor at the University of Washington Bothell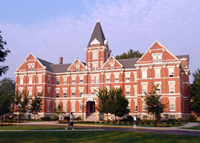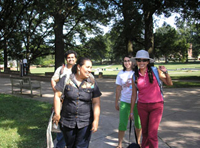 By Charles Redman
Director of the Global Institute of Sustainability at Arizona State University.


Download Study in the USA® Magazines