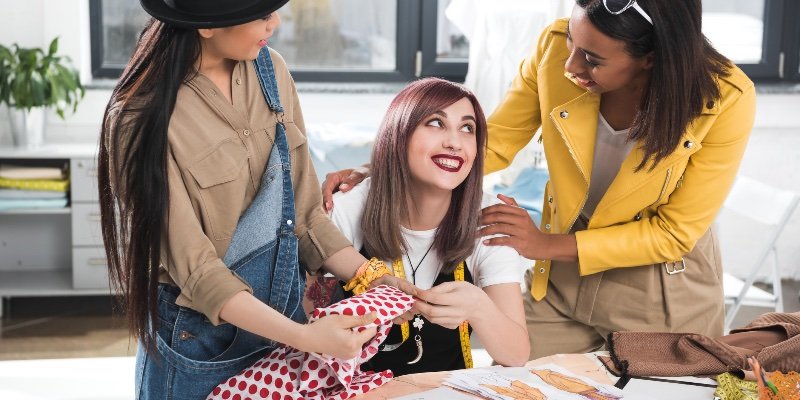 ---
Find programs in Arts and Design
---
Do you have a passion for fashion?
Do you think that you need to be an artist or know how to sew to go into this field?
Do you wonder where you can study, and how the job market looks?
Which area of fashion should you study?
Best place to study fashion
At the forefront of technology, the USA is the leader in educating fashion designers and business leaders in this exciting industry. Here you can learn it all, from adapting a 16th century gown for a 21st century film, to computerized stitching techniques, to promoting a new line of apparel.
While Paris may be the capital of the couture market, the USA is the center of the ready-to-wear market and New York City is the fashion capital of the world. All the resources are here: the stores, the top designers, textile firms, fashion magazines and more! All major designers—whether they come from France, Italy, Japan or Spain—have a presence in New York.
The USA is a country that embraces change, and fashion is ever changing. What does this mean for a fashion student? It doesn't get any better.
Streets, not Textbooks
Fashion is something that you learn. You are not born with good taste. At Berkeley College, we do not rely solely on textbooks. Textbooks become outdated quickly, but fashion changes every season. When we discuss window design - visual merchandising - we just walk down the street and look at the windows in Saks Fifth Avenue or Macy's.
Evaluating programs
What should you look for when choosing a fashion marketing and management program?
1. Is the program designed with significant input from industry insiders?
2. Does the program offer business courses as well as fashion courses? It is important to remember that fashion is a big business and that students must be able to understand the business world too. At Berkeley, we combine cutting-edge fashion courses with a solid background in business. We emphasize Fashion Marketing and Management, as well as design. This prepares the student to "hit the ground running" in the fashion industry.
3. Here are some of the technical courses that students should look for in a program:
• Product Lifecycle Planning – What are the stages a product goes through – from concept and development, to marketing and sales?
• Advanced Textiles – What types of innovations are impacting the development of fabrics and their various uses in garments?
• Global Sources - Where do buttons come from? What country produces the best silk?
• Technology courses - A great deal of fashion is on the Internet. It's not just in stores any more.
• CAD - Computer Aided Design programs. This technology helps you design clothing directly on the computer.
• JDA – Supply Chain Management software to sort and allocate store merchandise for the retail industry. This is a unit taught in Berkeley's Computer Applications for Fashion course.
4. Most importantly, does the program offer an internship? Work experience is essential to your fashion career.
Where Does It Lead?
Berkeley College
Most students ask, "What kind of job will this type of program prepare me for?" When you consider fashion as a business and are not just dealing with design, you become more flexible and open to a number of positions. There are too many relevant careers to list, but here are a few that will be available to you:
• Merchandising positions in buying offices (buying offices usually purchase for a variety of stores).
• Product Development Specialist (product development deals with the birth of the product all the way to the consumer).
• Executive trainee positions with fashion retailers.
What it takes
What qualities do students need to be successful in the fashion industry? Creativity, ambition, flexibility and knowledge.
The USA, with its wonderful distinctive mix of people from all over the world, is the true destination of people who have a passion for fashion. This adds an exciting dimension to all of our programs, but none more than Fashion, where cultural diversity can give rise to unique perspectives on fashion trends and the future of the industry.
Berkeley College
Each semester, students in Academy of Art University's School of Fashion show their original designs at New York Fashion Week. From fashion design and journalism, to knitwear, textiles, and merchandising, students from the accredited school work on projects for fashion companies in the U.S.A. and around the world. Graduates go on to work for firms like Louis Vuitton, Oscar de la Renta, and Giorgio Armani.
Pierce College in Lakewood, Washington, offers a two-year Associate Degree in Business with an emphasis on Retail and Fashion Merchandising. The curriculum comprises both business and specialized fashion design classes in apparel design and construction, textiles, creative sales, retailing and merchandising techniques.
One popular course is Fashion Design and Clothing Construction Analysis, which covers the history of design, quality control and design development. Students in Consumer Textiles class focus on fibers and fabrics. One assignment is to complete a swatch kit comprised of over 100 fabric samples, demonstrating the properties and uses for each type of cloth. The Introduction to Fashion course is conducted entirely on line. That's helpful for students with a full class schedule.
International students find that combining a Fashion Certificate and a Business AA degree gives them many career opportunities. When they return home, they are qualified for positions as buyers, apparel store or department managers, sales representatives, or display specialists. Earning a bachelor's degree is another option for international students who want careers in fashion.
At Pierce College students can earn a 2-year Associate Degree and then transfer to a university to complete their bachelor's degree.
Sienna (Yeon Ha) Lee from South Korea transferred from Pierce to the Fashion Institute of Technology, where she will finish her bachelor's in International Trade and Marketing for the Fashion Industry. While at Pierce College, Sienna started an International Fashion Club organizing activities related to fashion such as giving each other haircuts and makeovers, decorating t-shirts, watching and then discussing the fashion industry film The Devil Wears Prada and making collage posters. Sienna Lee from Korea says of the International Fashion Club.
"As a president of the club, I developed some activities such as analyzing actor or actress' fashion style while watching movies, making a poster using fashion magazines, making our own t-shirts using various ornamental elements and so on."
Photos by Manrepeller and Liz Uy
By Robert Woods
Robert Woods is a faculty member in the Fashion Department at Berkeley College's Campus in New York City


Download Study in the USA® Magazines