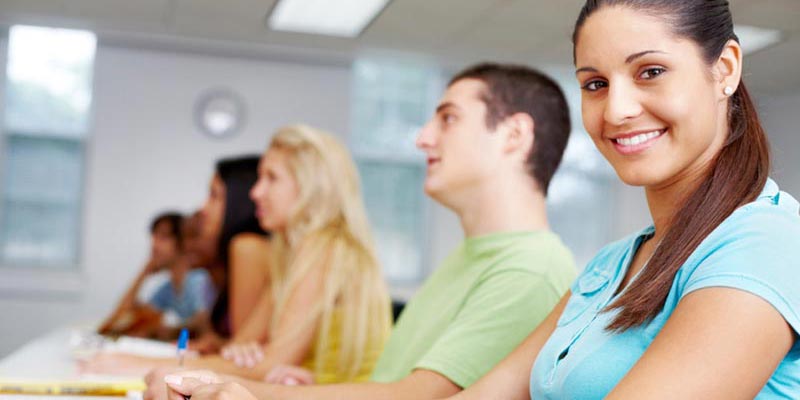 You may have heard of the many benefits of studying in an intensive English program in the United States. You will gain proficiency in reading, writing, listening and speaking. You will polish your grammar and prepare for the TOEFL exam. You will make friends with classmates from other countries. Your teachers will help you learn about U.S. culture, take you on field trips and introduce you to American food. All these advantages bring you one step closer to your goal of obtaining a degree from an American college or university.
There is another advantage of studying in an intensive English language program that you may not know: the opportunity to audit classes.
Auditing classes means you attend a class as a visitor in order to observe and learn, but not for university credits or marks. As an auditing student, you can listen and watch without the pressure of participating or completing assignments. Upper-level students at the English Language Institute of Queens College of the City University of New York (CUNY) are encouraged to audit courses because it gives them the chance to get comfortable with the classroom culture before becoming a full-time student.
In class, you will get a glimpse of how the professors and the students interact with each other and how the professor enhances the textbook information with class lectures, handouts and visual aids. Along with recognizing the dynamic of a particular class, you will become familiar with the general procedures, behaviors, and customs of university academic life. If you feel comfortable, you may stay after class to speak with the professor and ask questions.
You will meet a new and diverse group of students outside of your English program, giving you the opportunity to make new friends and share cultures. These casual interactions will make you feel welcome in the academic community.
Auditing courses gives you the additional benefit of exploring subjects that interest you, even ones that are not associated with your major. Over the past several semesters, students at Queens College have audited courses in disciplines as varied as Aspects of Literary Criticism, Introduction to Art, Cultural Factors in Communication, and Business Ethics.
Of course one of the most valuable advantages to auditing a course is that once you officially begin taking classes, you will have already learned and studied the subject matter. It will be easier for you to understand the theories discussed, and you will begin to recognize the terminology and vocabulary specific to the subject matter. This will make the class more enjoyable for you and the topic much more interesting.
Students attending the English Language Institute at Queens College report how glad they are to audit classes. The friendliness and support of the professors and students encourages them to continue studying in the USA and learning a new language. As they work towards their degree, international students are strengthened by feelings of optimism, excitement, and hope.

If you want to audit classes at Queens College, the first step is to review the course offerings and select one or two classes that interest you and fit your schedule.
After you have selected a course, you will need to go to the English Language Institute (ELI) Office and request a letter that introduces you to the professor. Practicing your best English, you will then introduce yourself to the instructor and ask permission to "sit in" on the class. If the instructor agrees, you are welcomed into class—success! This experience will give you a burst of confidence and encouragement. You will have completed a task by practicing your English skills and asserting yourself.
Auditing classes helps you answer questions:
Do I say "hello" to the instructor every day?
Do I sit quietly, or do I ask questions?
What are the "class participation" requirements?
How do American college students behave in class?
What does the instructor expect of students in class? After class?
What information is included in a syllabus?
Do I have to take notes, or is studying from the textbook enough?
By Donna Y Smith
Donna Y. Smith is the Executive Director of International Teaching and Learning and the English Language Institute at Queens College of the City University of New York.


Download Study in the USA® Magazines