Chandler-Gilbert Community College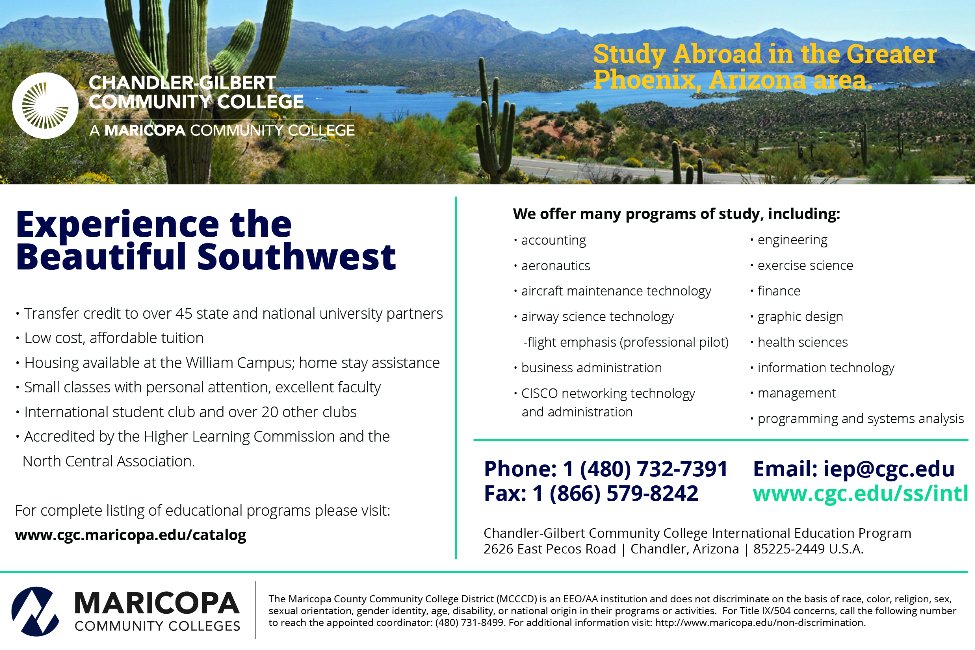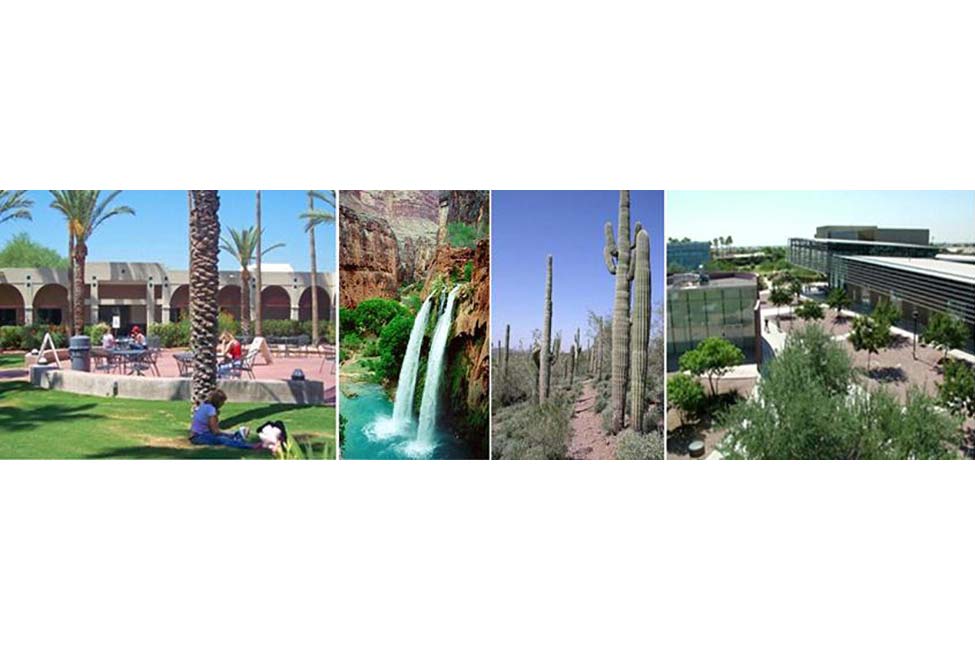 Fast Facts
School Size

Medium

Cost of Attendance

S20,000—$25,000 Year

Affiliation

Public

Type of School

2yr/Community College

Student Body Gender

Co-ed

Religious Affiliation

No Affiliation

Scholarships for International Students

No

Conditional Admission Available

Yes

Top Programs

Aviation, Business, Engineering

Setting

Suburban

Accreditation and Certification

AACC Schools

Type of Housing

Homestay, Apartment, Dormitory

Test Scores

TOEFL: 60+, IELTS: Band 5.5+

Social Media
Welcome to a World of Opportunity
Why Choose CGCC?
Chandler and Gilbert are two of the fastest growing communities in the United States
Personal campus environment and family like atmosphere
Affordable tuition
Small classes, personal attention
Excellent transfer record to 4-year universities, such as nearby Arizona State University-East
Housing available at the Williams Campus; home stay assistance
One-to-one attention from staff in International Student Services
Free tutoring services
Conversational Partnership Program to help improve language skills
Clubs and student organizations
Orientation on adjustment to American life, academic success and transfer
Wireless computing environment
State of the art professional/technical training programs
Close to Phoenix
Conveniently located to year-round outdoor recreation (hiking, snow skiing, camping, swimming, boating, tennis and golf)
Chandler-Gilbert Community College is part of the Maricopa Community College District. MCCD is fully accredited and recognized throughout the world as a leader in education. Chandler-Gilbert Community College welcomes international students and is committed to students' academic success and personal development. Many international students begin their university education at a CGCC to take advantage of the lower cost, easy admissions and smaller classes.
Chandler-Gilbert Community College is a two-year college with many transfer and occupational programs. Students who plan to earn a four-year bachelor's degree come to CGCC for their first two years of college to complete general university requirements and earn an Associate transfer degree. Most of our students transfer to Arizona State University, University of Arizona or Northern Arizona University to complete a 4-year bachelor's degree. CGCC credits are transferable to most public and private universities throughout the United States.
Admissions: How to Apply
For complete Admissions Instructions and forms, please visit our website at: www.cgc.edu/ss/intl/admissions
Complete the International Student Information Form.
Submit TOEFL, IELT or STEP Score Report
Submit official secondary school transcripts and certificate or diploma, along with a certified English translation attached to the Originals if they are not in English.
Submit Evidence of Financial Support form, and bank
documents, showing that you have a minimum of costs required.
Official transcripts from all colleges and/or universities.
A photocopy of your identification page in your passport.
Additional requirements if you are applying from within the United States:
A photocopy of the I-94 card in your passport.
A photocopy of the visa page in your passport.
A photocopy of ALL prior I-20s.
A letter of transfer eligibility from current Designated School Official (DSO).
Living in Arizona
The state of Arizona is known for its beautiful scenery. Arizona is the home to the Grand Canyon, Painted Desert, Monument Valley, Canyon de Chelly National Monument, Katchner Caverns as well as many other incredible natural wonders. Arizona is famous for its warm, sunny weather. With 330 days of sunshine a year, Arizona is ideal for outdoor adventures. Temperatures vary depending on elevation. Winter temperatures of 60°F (16°C) are common in Arizona. In the desert, summer temperatures often exceed 100°F (38°C). The cities of Chandler and Gilbert are just 35 minutes away from Phoenix, which is the fifth largest city in the United States. CGCC is located about 20 miles from the Superstition Mountains, which boasts four lakes, plenty of hiking trails and scenic camp grounds. Arizona State University, the largest university in Arizona, is only 30 minutes away.
Programs of Study
(for a complete listing of transfer programs, degrees and certificates, please visit: http://www.cgc.maricopa.edu/catalog and click "Educational Programs".)
Accounting
Aeronautics
Aircraft Flight Technology
Aircraft Maintenance Technology
Airway Science Technology - Flight Emphasis (Professional Pilot)
Biology
Biotechnology
Chemistry
CISCO Networking Technology
Computer Science Information
Computer Science Engineering
Crime & Intelligence Analysis
Education
Electric Utility Technology
Engineering
Finance
General Business
Graphic Design
International Studies
Linux
Management
Manufacturing Engineering Technology
Marketing
Media Arts (Computer Arts/Illustration, Digital Imaging)
Microcomputer Business Applications
Microsoft Database Administration
Microsoft Networking Technology
Microsoft Solutions Development
Microsoft Systems Administration
Microsoft Systems Engineer
Networking Administration (Cisco)
Nursing
View our "Many Views, One Vision" mural video:
http://www.youtube.com/watch?v=LWzzgmL2eTU
Chandler-Gilbert Community College


International Education Program
2626 East Pecos Road
Chandler AZ 85225-2499
P: 480.732-7391
For more information:
Chandler-Gilbert Community College