Genesee Community College

Fast Facts
School Size

Medium

Cost of Attendance

$5,000—$10,000 Semester

Affiliation

Public

Type of School

2yr/Community College

Student Body Gender

Co-ed

Religious Affiliation

No Affiliation

Scholarships for International Students

No

Conditional Admission Available

No

Setting

Small/College town

Accreditation and Certification

AACC Schools

Type of Housing

Residence Hall

Social Media
Welcome to Genesee
Genesee Community College is located in Batavia, NY amid the scenic greater Finger Lakes region, half way between the metropolitan areas of Rochester and Buffalo and just two hours from Toronto, Canada. With about 7,000 full-time and part-time students, Genesee is the college of choice for students across New York State, the nation and the globe. In a recent survey, Genesee Community College ranked among the highest in student satisfaction earning acclaim for innovative academic programs, powerful technology tools available to students both in and outside the classroom, and a growing distance learning program.
Residence Life Community
Making Genesee your home away from home means living independently while enjoying a small, friendly community that provides the full college experience. College Village, Genesee's residence life community is located just a two-minute stroll from campus. The fully furnished apartment-style suites feature all of today's must-have amenities, such as wireless Internet access, cable TV, local and long-distance digital telephone service, laundry facilities, and ample parking--all part of the housing fee. Two new residence buildings were recently constructed, making College Village home to approximately 380 students.
Fun and Games
There's something for everyone at Genesee! Beyond the 60 academic programs, Genesee offers nearly 50 student clubs including WGCC, the FM student radio station, The New Courier student newspaper, Forum Players Theater Company, the Billiard Club, the Adventure Club, and many other student organizations. The College's champion intercollegiate athletics programs offer men's baseball, basketball, lacrosse, soccer, swimming and diving, volleyball, and co-ed golf; and women's softball, basketball, soccer, swimming and diving, volleyball, and co-ed golf.
Choosing Your Career
Genesee offers a comprehensive selection of 60 programs of study designed to fill a wide variety of career choices. We are among the few community colleges in the nation to offer degree programs in Biotechnology, Fashion Merchandising Management, and Computerized Drafting and Design. Our Nursing program features a brand new nursing lab with faculty members who are well-known in their respective areas of expertise. All academic programs offered by Genesee including degrees and courses in Business and Commerce, Computers and Technology, Creative Arts, Health Care, Human Services, Law and Criminal Justice, Liberal Arts, Math and Science, Office Technology and Support, Sports and Physical Education and Teaching have been approved by the State University of New York and the Middle States Commission on Higher Education.
Taking the Next Step
Many of our students choose to transfer to a four-year college upon graduation. The academic credits you earn at Genesee transfer to virtually any college or university in the United States. In fact, Genesee has transfer agreements with many baccalaureate colleges, which means that no matter what college you choose to attend, you will have a solid start to your Bachelor's degree. Students who wish to transfer are encouraged to speak with a Genesee Community College advisor in their first semester.
The Details
Genesee Community College was founded in 1966 as part of the prestigious State University of New York and has since become one of the most highly-respected community colleges in the United States. Six satellite campus centers are conveniently located throughout a four-county service area in addition to the main campus in Batavia, and online course options continue to grow in all academic divisions. Genesee graduates consistently find good jobs or successfully transfer to other colleges for further education.
Get More
With tuition at approximately $4,000 per year, Genesee offers a quality education at an affordable price. Application is free and easy, and Genesee's Admissions staff is ready to help you pursue and reach your educational goals. Known throughout the country for innovative programs, student-centered education, and cutting-edge technology, Genesee is an exceptional value and a great place to start your future!
We want to hear about your hopes and plans for college and beyond.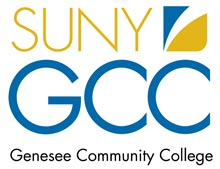 Genesee Community College


Carrie Sputore International Admissions Advisor
One College Road
Batavia NY 14020-9704
P: 585.345.6800
not specified
not specified not specified not specified
P: not specified
For more information:
Genesee Community College