Bergen Community College
The International Student Center
Fast Facts
School Size

Small

Cost of Attendance

$10,000 — $15,000 Year

Affiliation

Public

Type of School

2yr/Community College

Student Body Gender

Co-ed

Religious Affiliation

No Affiliation

Scholarships for International Students

Yes

Conditional Admission Available

No

Top Programs

Business, English Language (ESL), Liberal Arts

Setting

Small/College town, Suburban

Accreditation and Certification

MSCHE

Type of Housing

No housing available

Social Media
Bergen Community College
Based in New Jersey, Bergen Community College, a public two-year coeducational college, enrolls more than 13,000 students at locations in Paramus, the Philip Ciarco Jr. Learning Center in Hackensack and Bergen Community College at the Meadowlands in Lyndhurst. The College offers more than 100 associate degree and certificate programs that prepare students for transfer to four-year institutions or for direct entry into a variety of professions. Classes are offered days, evenings, weekends, and online. Sixty student clubs and organizations, as well as thirteen intercollegiate athletic teams, provide for a wealth of student activities and events. Non-credit, professional courses are offered through The Division of Continuing Education & Workforce Development and the Institute for Learning in Retirement. The College's Paramus main campus features vast physical resources including the Technology Education Center (opened 2003), the region's only Health Professions Integrated Teaching Center (opened 2016), and the nation-leading STEM Student Research Center (opened 2019).
Bergen Community College welcomes over 200 international students from over 55 countries around the world. Bergen's beautiful campus offers a safe and welcoming environment just 30 miles away from New York City. Bergen's open admissions, strong student support services, excellent academic environment, and seamless transfer to public and private universities make it a great place for international students to start their American college experience. The International Student Center assists prospective and current F-1 international students with comprehensive services including admissions, immigration, and academic related matters. 
Quality
The College ranks No. 1 in New Jersey for associate degree graduates. Bergen's personnel represent an institutional strength, highlighted by the 2015 U.S. Professor of the Year, as named by the Council for Advancement and Support of Education and the Carnegie Foundation for the Advancement of Teaching. Bergen's affordable tuition and renowned faculty complement general education classes such as English Composition, General Biology and Statistics that remain ideal for transfer to many four-year colleges. Bergen offers associate degree and certificate programs in areas such as aviation, criminal justice, dental hygiene, fashion design and hospitality.
Affordability
Bergen offers an affordable tuition rate for out of county, out of state, and non-immigrant visa students. Tution and fees for international students are estimated at $10,000 per year, or approxiamtely $5,000 per semester.
Access
The College's one-stop campus environment connects students with registration, academic and wraparound support services such as:
The Cerullo Learning Assistance Center, a nationally recognized tutoring center;

The Center for Health Wellness and Personal Counseling, an office staffed with counselors to support mental health and well-being; and

The Child Development Center, a nationally accredited early childhood learning facility.
Bergen Community College has two International Student Counselors who provide services and programs for current F-1 international students at the International Student Center.
The ISC provides the following services to assist F-1 visa holders:
Immigration and academic advisement

Immigration / USCIS Compliance / F-1 Status Maintenance

Cultural Adjustment Counseling

F-1 International Student Orientation (Fall and Spring semesters)

Verification for social security letter

Workshops to keep F-1's up to date and informed!
Two-Year College 
International Student Center
Phone: (201) 689-7601
International Student Admissions Email Address: intadmissions@bergen.edu
Testimonials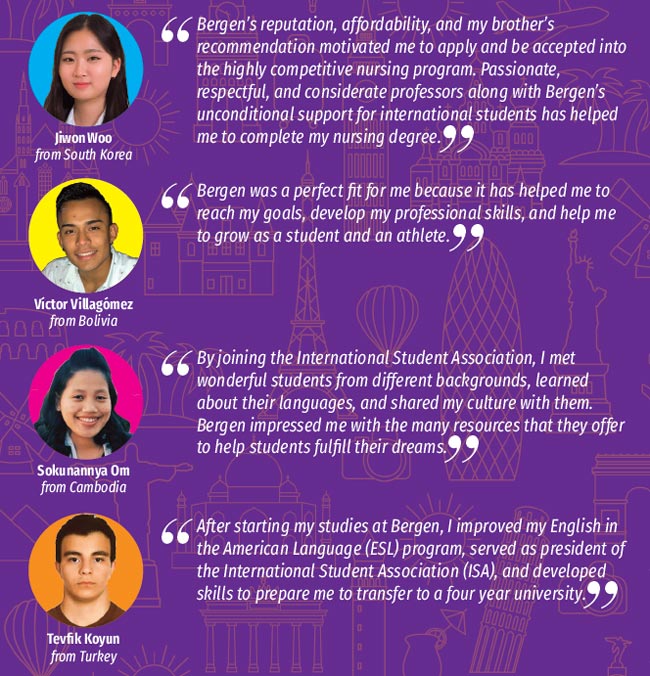 Bergen Community College
The International Student Center

Room SC-110, Pitkin Education Center 400 Paramus Road
Paramus NJ 07652
P: 201-689-7601
For more information:
Bergen Community College
The International Student Center